Our
Staff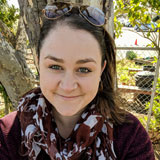 Michaela Murray
( Director)
I'm Michaela Murray; I started as a full time teacher in the twos and threes room at Old Adobe School and in September of 2017 became the director of the program. I've been working here since January of 2014 and I love every minute of it. I really love working at Old Adobe School for so many reasons, but the main one being that I agree so much with the philosophy of the school. I believe that a preschool curriculum should be built primarily around the interests of the children in the class. A teacher's job in the classroom is to gently guide and scaffold children as opposed to directing and dictating their actions. I love to watch all the children here explore and discover what they find interesting in their own way. I got my first babysitting job at twelve years old, and since then I have never looked back. Most jobs that I've had in my life have been child related. Before I joined Old Adobe School I worked part time at Tree House Hollow, a small preschool in Sebastopol, and as a part time nanny. I have lived in Sonoma County most of my life and I love it here. In my spare time I enjoy going to see live music, cheering on the Giants and the Warriors, and spending as much time with my friends and family as I can.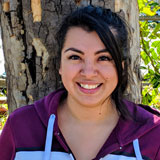 Angelica Garcia
( Preschool Teachers)
I'm Angelica Garcia, and I have been working at Old Adobe School since April 2016. I'm the head teacher in the preschool room and I work mainly with the two and three year olds. I enjoying working with them so much because I like teaching them new things and having them teach me new things as well. We have an amazing staff crew and I enjoy working with them because they are as passionate about working with children as I am. I have worked in other places like retail and office work, but never got the satisfaction in my work as I do here. I love the work environment and the location that we are at. We have a beautiful playground so the children can play and discover new things as their hearts desire. One main reason why I like working at Old Adobe is because of the philosophy that is applied here. I strongly agree that children learn for playing and being around other children their age. We have amazing children here at Old Adobe School and amazing parents as well. I love working with the children and the families. I believe having a strong connection with the families help the child be successful.
I have my Associate Degree in Child Development which I obtained at Santa Rosa Junior College. Eventually, I'll go back to Sonoma State University toget my Bachelors Degree in Child Development. In my free time I enjoy hanging out with my friends, hiking, dancing cumbia, seeing live music, and traveling to new places I have never been before.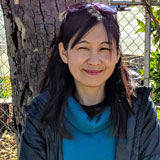 Coco Stewart
( Preschool Teachers)
My name is Coco Stewart. I began working at Old Adobe School as a teacher's aide in November of 2007. I was born and grew up in Japan. I studied dress design at Kyoto Seian Junior College. I was also a lingerie designer for 8 years in Kyoto. In 1996 I moved to America and got married. I have lived in Sonoma since 2000, with my husband and two boys, who go to SVHS. Both of my sons attended Old Adobe School. My older son has autism and he attended Old Adobe in 2003. I sometimes stayed with him as a shadow, or aide, at school. I also served as a classroom volunteer when my second son attended. I felt so lucky to find such a great school for them!! They loved going to Old Adobe. My second son always begged me to let him stay longer at his pick up time! He learned many social skills at school: making friends, sharing toys, as well as academic skills, such as writing his name, letters, numbers, etc. When my sons were younger, I learned a lot from their school. I also took it upon myself to learn about special education such as ABA (AppliedBehavioral Analysis) and TEACCH (Treatment and Education of Autistic and Related Communication Handicapped Children). I learned that organizing the physical environment, developing schedules and work systems, making expectations clear and explicit, and using visual materials as picture cards are effective ways of developing skills for people with autism. I believe that the teaching methods I learned for my son greatly prepared me for the preschool environment.I am really happy to work here with all of the teachers and children. I hope that they say to their parents, " Come on! Hurry up! I can' t wait to go to school to play with my friends and teachers at Old Adobe!!"
Fabi Domitri
( Pre Kindergarten Teacher )
Hi, I'm Fabi Domitri and I'm thrilled to be a part of the Old Adobe School staff. I've worked with children since I was old enough to babysit and have previous experience working in a child-directed, play based classroom. My education includes an AS in Early Childhood Education and I am currently pursuing a bachelor's in early childhood education at Sonoma State. I am passionate about providing ample opportunities for children to explore the natural world. I also try to build around the children's interest, because I feel that is how they learn best. Outside of the classroom I enjoy reading and being in the outdoors.
Hannah Hemenway
( Pre Kindergarten Teacher )
Hi All!! I am Hannah Hemenway and new to the Old Adobe School staff as of July 2018. I am one of the lead Pre-k teachers mainly working with our older threes to fives focusing on getting them ready for Kindergarten at five. I am originally from Vermont, growing up in the outdoors and learning through play as a child I knew I found home when I came to Old Adobe. The combination of nature based, and child centered curriculum seemed to be a perfect blend of my two favorite types of teaching styles that I came across during my time at Fullerton College obtaining my Associates in Early Childhood Education. I have always wanted to have some role with young children, always playing the mom role or teacher, growing up. I started my college career with a different goal in mind but my devotion to children continued to pull at my heart and so, three and a half years in, I took a hard-right turn and changed my major. I fell in love with the Early Childhood Education program at Fullerton College and my time there solidified my passion for the development of young minds. After my time at Fullerton College I spent three years at a private preschool program quickly moving up in positions, starting as a van driver for our elementary aged students, lead Pre-k teacher, head of infant toddler center to landing the director's position. I spent a little over a year directing a fairly large facility and after experiencing both size programs I can, without hesitation, say the small intimate program here at Old Adobe School not only allows the child to thrive but also the teachers, the relationships, the bonds, and the community. I feel truly blessed and honored to be a member of the staff at Old Adobe School.
Jessica Bernabe
( Preschool Teacher)
My name is Jessica Bernabe. My hobbies include, going on runs, hiking,and listening to music. I enjoy visiting new places and trying new kinds of food with my friends and family. I've been working at Old Adobe since July 2016. I worked in the Pre-k room with the older kids for quite some time and now I have a chance to work with the little ones in the Preschool room! I'm very excited to work with such high-spirited 2-3 years olds with an excitement to learn and try new things!Right now, I am a part time student at the Santa Rosa Junior College, in pursuit of my Associates in Child Development. I hope to transfer to Sonoma State University where I'll achieve my bachelor's degree. I first became interested in working with children, in my very first semester of community college. I was inspired by one of my child development professors, who opened my mind to new ideas and career paths of working as a child care provider. I worked at the Boys and Girls Club as way to better myself as a leader, plan activities, and take on bigger responsibilities with children from all different kinds of schools. It was a pleasure working with such unique individuals and I am grateful for the amazing staff for guiding and mentoring me. I'm very passionate about our curriculum, as I believe that children can learn and acquire skills in a play-based environment. They're exposed to colors, numbers, shapes, usage of tools (cutting with scissors, gluing, taping, etc.), and building friendships. I know that this is a very important stage for young children, as they are introduced to the basic concepts of learning. Every day I get to learn more about preschoolers and their interests (love of cars, painting, planting, dinosaurs, dress ups etc.), so that I may use it to plan my own activities. The wonderful Old Adobe teachers and I are here to support, bond, and encourage Preschool and Pre-K kids to strive for greatness!